The recent news of the Live At The Drive In shows being cancelled due to fears of local outbreaks, highlights the realism of routes out of lockdown for live music performance. After the government announced outdoor shows could go ahead, a string of (already announced) outdoor events had started to sell tickets. With a lineup featuring The Streets, Kaiser Chiefs and Tom Grennan the shows were not to everyones taste, but economically, large scale bands are needed to secure enough sales, at a high enough price point, with such limited capacity. Although a great concept, the nature of the lineup and the ongoing risks of operating within a pandemic have distracted the community still at risk.
The government announced a four stage plan. At stage one and stage two, venues can open for rehearsals, training and recording performances for broadcast without an audience. Next, outdoor shows are allowed, plus 'pilots' for indoor gigs with a seated, limited and distanced audience; it's uncertain yet whether that will involve a two-metre rule or a capacity limit at around 30 per cent. At stage four, limited, distanced indoor gigs can go ahead and at stage five they can increase audience capacity to something that maybe isn't bankruptcy.
Amidst the praise of live music 'returning', the most at-risk venues and artists continue to be affected by the outbreak and that stage four, seems very far away. On the 16th July, The Welly in Hull, Gorilla in Manchester and Deaf Institute all closed. Grassroots organisations and small-medium artists still do not know their future. They both have limited cash reserves and limited exposure are unable to sustain themselves due to their popularity, through donations, merch and spotify streams.
Lets look at some of the places that have done it successfully. In Barcelona, Primavera music festival have launched 'Nits del Forum' a series of open-air shows, in Parc Del Forum with an attendance capped to enable social distancing. These events are selling out, proving success whilst also allowing bars to operate in the space, to further support.
In Oslo, a city fortunate to have many open spaces, have been hosting outside gigs in car parks, and unique locations such as SALT by the Oslo fyord, with a gig every night of the weekend, open mic nights and dj events. With limited capacity and enough space to distance between one and other, similarly these events are selling out.
These international examples show a fascinating incite, but it is difficult to see how these can be replicated in the UK music industry. The UK has very limited outside space to host an economically stable outside performance of this nature. Furthermore, The majority of UK gig-goes tend to be from a lifestyle without cars and the UK focus has such been on large scale, remote events. Although if a city attempted one of these concepts, London, for example, where space is a premium, seems impossible to host in socially distanced spaces like Barcelona and Oslo. There are many variables to be considered for those who would potentially host, the popularity of the act, the style of location, risk of further lockdowns without insurance to name just a few. Ultimately, grassroots venues are nervous at spending money and to host such an event that could be a further huge financial risk if then cancelled.
What has been seen from the decline in popularity of live streams, is that the ambiance of a show is integral to its success, the characterization of some of the UK's best grassroots venues are through their intimacy, and grunge-like aesthetics, these can't be replicated in these circumstances but admittedly, outdoor shows are a step in the right direction and need to be supported.
What this means for venues
Whilst all of this is ongoing, its key to remember what venues are still going through, The Lexington in Islington ran a very successful Crowdfunder project, but it revealed the stark reality of each venue. The Lexington has costs of over £25,000 each month, to survive with the doors closed, this cost is not going away and initial crowdfunding drives are drying out. Most venues have opened to sell alcohol but that is just a drop in the ocean of their overall costs and business model.
What this means for artists
But most importantly, what does this mean for the artists who play the venues, a venue cannot exist without the type of bands who would inhabit its space. And without co-survival, one will not exist without the other.
Ultimately, there are not enough avenues that provide income for musicians, venue staff and touring crew. Streaming, merchandise and streamed shows operate with very minimal profit to the artist. Even incredibly successful bands, if they were to remove their savings, wouldn't be financially secure with current financial infrastructure.
Streaming has been a great success in the past at opening up new artists to listeners, however an ongoing debate is the amount artists recieve per stream, and in this current climate, this needs to be a further avenue of income. Tom Gray, Director of PRS for Music recently tweeted a case study of the Beatles, if they were to start out in today's climate.
He goes on to detail, in 1965, 1.8 million copies of Rubber Soul sold in the USA. 11 songs. That's 19.8 million confirmed song sales. That's about £80k for Parlophone in streaming terms and £16k for The Beatles.
The band recorded for one month in Abbey Road Studio 2. Renting that room, a rough guess, £3k per day. So that's £90k for the room. A producer of George Martin's stature today, no less than £15k. So the band are already endebted to the label for £105k. With a band as popular at the time as the Beatles, what hope does that give emerging musicians without touring.
When you consider how little the money from each stream (approx £0.005 per play) goes to the artists, you need a lot of plays to earn any kind of money. In fact, the whole system is fucked, many labels still pay to artists based on 90% earnings because they hold back 10% for 'breakages' (when they used to pack vans with vinyl and there were inevitable casualties).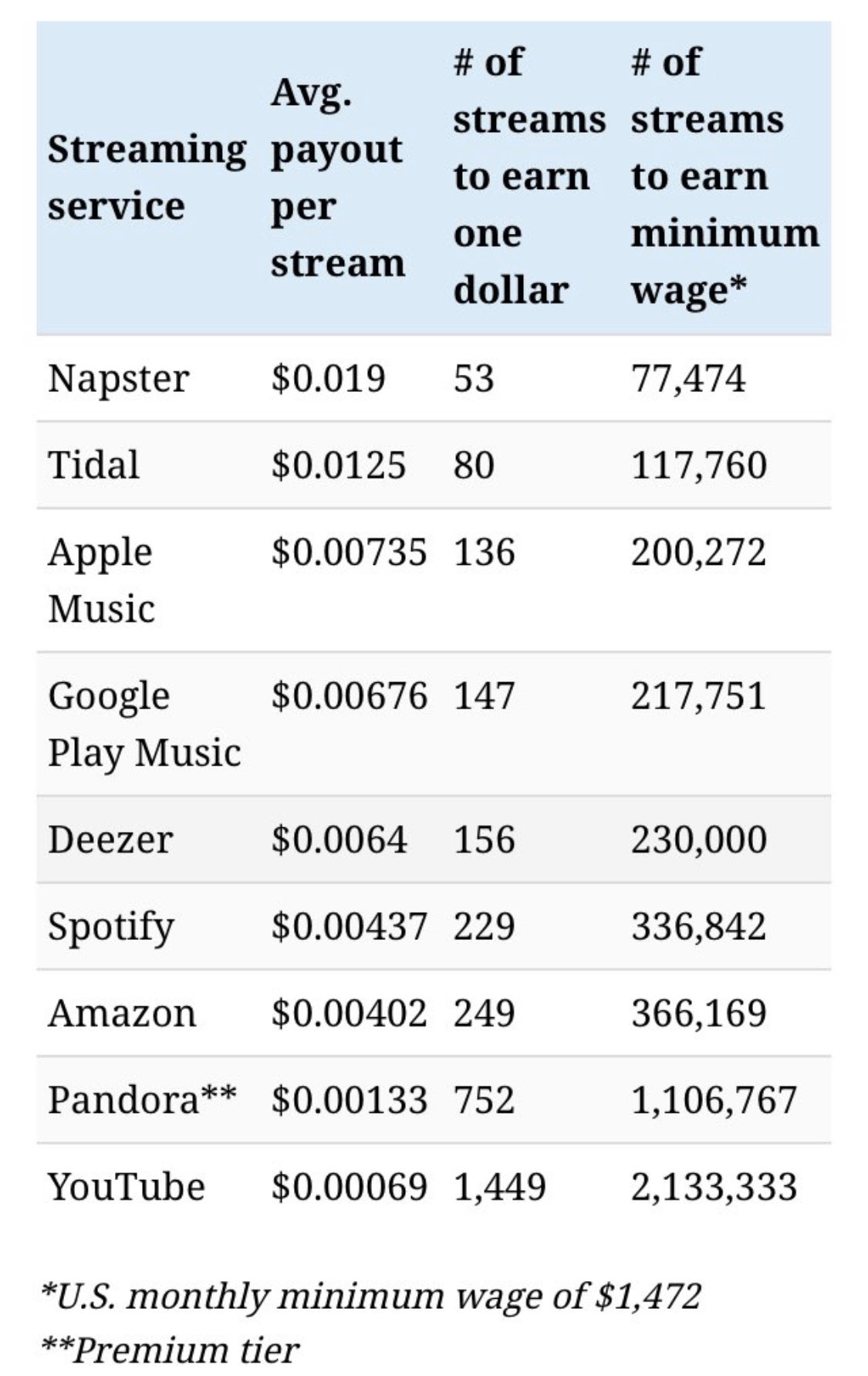 One of the hard hitting and unspoken facts from all of this, is that there is a sense of survival, not just for venues, the musicians but for the audiences themselves. The majority of gig-goers are young, who do not have an abundance of disposable income, facing an unprecedented recession. In times of uncertainty, a changing mindset of saving is having a huge impact on donations and supporting to the extent we would all want to do. Whereas the extent of government support is yet to be divided out, the arts have been left to be supported by its audience, who need a sense of normality to return.
In times of economic turmoil, the meaning of arts is vastly more significant beyond just its economic impact. Expressions in hardship characterize some of musics greatest movements, from Swing-Jazz, Punk and Grime. The country needs the arts move than ever. The government has stepped in with a £1.57bn grant package, though what is yet to be seen is how long this can last, who is supported and what this means once the grant package has been split across the arts in its entirety.
The Music Venue Trust have calculated that staying closed for a further three months will cost a combined £46 million, and 93 per cent won't be able to reopen at all. A car crash waiting to happen. But opening with such restrictions in 'phase four' would cost £85 million (or £52 million with a one-metre restriction) and risk further closures that we are already seeing. Instead the MVT, propose that the government provides the funds of around £50 million to survive until October, and then fucks off.
What needs to happen is some level of ongoing government support for venues to begin operating at a reduced capacity, now. Or inject enough cash into the grassroots venues that support the whole industry. If venues can only operate at 70% capacity, the government should support the remaining costs of ticket sales to get live music back 'on the road'.