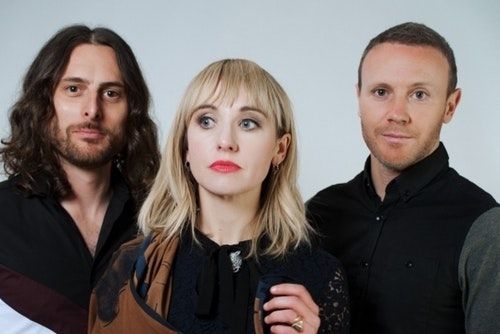 Welsh alternative-rock band the Joy Formidable share their thoughts and four albums worth of experiences on the significance of venues, the impact of Covid-19.
1. When playing certain venues, are you conscious of bands that have graced its stage before? And does this affect how it feels to play at such venue?
Always conscious, yes. It's fun to know and imagine who has played at the venue before you. It doesn't always enhance the gig ; that's down to a lot of factors, but if the venue has character and has been well maintained for a great artist & audience experience, it's usually a lot more memorable to play somewhere with history, age and a musical legacy.
2. If you were to choose one venue, that you played at have visited to be protected. What would that venue be? What are your memories of 'x' venue? And what is the most important aspect of the venue that you would protect?
It would have to be the Tivoli in North Wales & I would love to see it attracting original new music again like it did in the 90's. It would be a wonderful addition to North Wales to have an inspirational venue back in motion again, somewhere that young people from Buckley/Mold and surrounding areas can go & enjoy the arts without having to travel to Manchester or Liverpool. It's hosted so many bands ; Nirvana, Oasis, SFA, Jeff Buckley – now it's more tribute based acts or weekend club nights.
What are the attributes of these buildings that are significant? i.e graffiti on dressing room walls.
Architecture and layout – Was a cinema in the 1920's.
3. Music scenes: Do you feel that scenes are important for towns and cities to embrace and to remember? and how do you feel the legacy of starting out in a different city would have influenced your sound?
I think every area should have a hub for the arts and live music. A way of involving the community, catering to lots of age groups and tastes. I was inspired to become an artist because of the shows I saw at Buckley Tivoli and the influx of music that visited our tiny Welsh town. Without that, it's very easy, especially in rural areas to feel culturally isolated and that can lead to great art in itself, as long as there's a drive/tendency for people to support local talent and a place to play.
4. How do you feel a venue supports your fans connect to one another during your shows?
We have so many fans that have befriended other fans at shows. Love stories, engagements, friendships. I am very worried that post Covid that will decline or cease to happen even when shows resume. We are potentially entering into a more fearful, disconnected time.
5. Do you feel venues form communities and what venue symbolises this?
I think Clwb Ifor Bach is a large vertebrae in the backbone of the Cardiff music scene. They absolutely do, when they are managed by passionate, inclusive, thoughtful people.
6. What do you feel are the benefits and downsides of listing and protecting a music venue.
I can't think of any downsides. We have lost so many iconic venues over the years to bad planning, lack of money, changes in recreational trends and shitty councils. We would love to see more of them protected and cherished.